GlobeNewswire
Folia Health Announces Distinguished Founding Members for its Scientific Advisory Council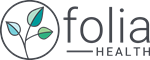 News provided by
Folia Health
Sep 19, 2023, 8:00 AM ET
BOSTON, Sept. 19, 2023 (GLOBE NEWSWIRE) -- Folia Health, the home-reported outcomes company, is proud to announce esteemed members of its Scientific Advisory Council. Composed of experts from diverse fields, the council will play a crucial role in Folia Health's commitment to advancing patient outcomes through evidence-based and patient-driven research.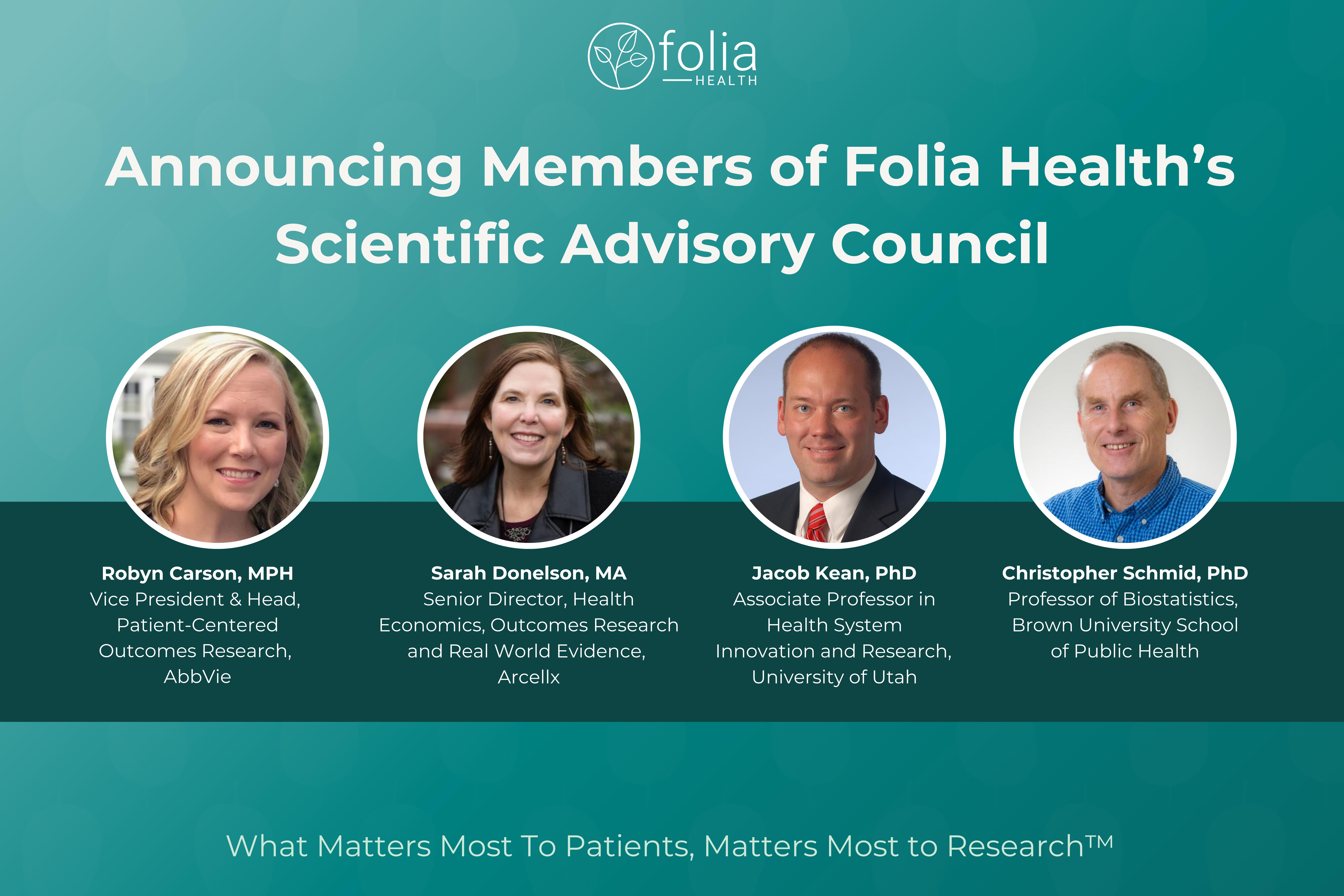 The following leaders have been appointed as Members of Folia Health's Scientific Advisory Council:
Robyn Carson, MPH
Vice President & Head, Patient-Centered Outcomes Research at AbbVie

Robyn T. Carson has over 17 years of pharmaceutical industry expertise. As the Vice President and Head of Patient-Centered Outcomes Research at AbbVie, she has been a driving force behind the development of innovative strategies to assess meaningful outcomes for patients and elevating these outcomes within product development programs and real-world research initiatives. Throughout her career, Robyn has made significant contributions to major product approvals and launches, as well as development of multiple novel PRO instruments and innovative real-world research platforms. She has served as a leader in the Critical Path Institute's PRO Consortium IBS & FD Working Groups since 2008. Robyn is a seasoned researcher with over 30 peer-reviewed articles and over 100 research presentations. She has been an invited speaker to represent the industry perspective on PFDD, PED, COAs, and advancing novel methodologies for patient-centric outcomes research. Robyn holds a MPH in epidemiology from Columbia University.
Sarah Donelson, MA
Senior Director, Health Economics, Outcomes Research and Real World Evidence at Arcellx

Sarah Donelson is a distinguished leader with experience in healthcare delivery organizations and the pharmaceutical industry. Donelson's innovative work in patient-reported outcomes has garnered recognition: she developed and led the global Patient-Reported Outcomes team at Roche, where her innovative work in measuring what matters to asthma patients led her to receive the Roche Innovation Award. She was a founding member of the Critical Path Institute Patient-Reported Outcome Consortium and the Industry Working Group of the International Society for Quality of Life Research. Sarah has been the senior scientist for numerous instrument development projects, health services research programs, and studies investigating emerging technology's ability to quantify the patient experience. Her background in biological anthropology from New York University is complemented by extensive training in statistics and public health from the Harvard School of Public Health and the Johns Hopkins Bloomberg School of Public Health.
Jacob Kean, PhD
Associate Professor in Health System Innovation and Research, Department of Population Health Sciences, University of Utah

Jacob Kean, PhD, brings a wealth of knowledge in health system innovation and research, particularly in the context of patient-centered outcomes. He is an Associate Professor in Health System Innovation and Research at the Department of Population Health Sciences, University of Utah, and Research Scientist at the Salt Lake City VA Health Care System. He completed his doctorate in 2008 and served subsequently and concurrently with various faculty appointments. Dr. Kean completed the NIH Training Institute for Dissemination and Implementation Research in Health (TIDIRH) and a post-doctoral Master's degree in Measurement, Evaluation, Statistics and Assessment (MESA) at the University of Illinois – Chicago. Dr. Kean's expertise lies at the nexus of these training areas: the creation and operation of clinical and research networks and the evaluation of network care practices using patient-centered outcomes. He is the Director of the Population Health Science – U Health Learning Health System, PI of the DoD-funded Optimizing Rehabilitation InterventiONs (ORION) for Cognition Following Complex Traumatic Brain Injury network, and Co-PI of the VA-funded Brain Injury Data Sharing Project.
Christopher Schmid, PhD
Professor of Biostatistics, Brown University School of Public Health

Christopher H. Schmid, PhD is Professor of Biostatistics and founding member of the Center for Evidence Synthesis in Health in the Brown School of Public Health. He is Fellow of the American Statistical Association (ASA), elected member of the Society for Research Synthesis Methodology, Founding Editor of the journal Research Synthesis Methods, statistical editor for the American Journal of Kidney Diseases and former Chair of the Section on Health Policy Statistics at ASA. He directs the Biostatistics, Epidemiology and Research Design (BERD), Core of Advance-RI Clinical and Translational Research and the Evidence Synthesis Academy, an AHRQ-funded training program in evidence synthesis focusing on comparative effectiveness and patient-centered research directed at mid-career professionals and users of healthcare evidence. He consults extensively with government, academia and industry and has served on many data safety monitoring and grant review committees. Dr. Schmid has co-authored a large number of applications in collaboration with medical and public health scientists, having published in all the leading general medical journals and in many top subspecialty journals. His research focuses on methods and applications for meta-analysis, particularly Bayesian methods and software, on predictive models derived from combining data from different sources and on clinical trials, particularly N-of-1 trials, single person multiple crossover studies. He has published extensively on meta-regression and multivariate methods, including network meta-analysis and combining N-of-1 studies. Dr. Schmid holds a PhD in Statistics from Harvard University and a BA in Mathematics from Haverford College.
The diverse leadership experience of the appointed members further strengthens Folia Health's mission to transform lived experiences into valuable insights for more effective research and care. "We are thrilled to welcome such accomplished individuals to our Scientific Advisory Council," said Nell Meosky Luo, CEO at Folia Health. "Their collective expertise will further our ability to drive improved outcomes on what truly matters to patients."
To learn more about Folia Health's solutions for life sciences, visit https://www.foliahealth.com/research or email us at partnerships@foliahealth.com
To learn more about Folia Health's publications, visit https://www.foliahealth.com/publications
Contact:
Media Relations
Email: media@foliahealth.com
Website: www.foliahealth.com
About Folia Health
Folia is a next-generation health technology platform that enables individuals to easily take an active role in their care, while contributing to precision diagnostics, patient-centered drug development, & better care for complex diseases. Folia's rich longitudinal data and proprietary analytic methods provide a vital and missing piece in the emergence of a data-driven healthcare ecosystem outside of the clinic. Discover how to harness the power of patient and caregiver knowledge at www.foliahealth.com.
What Matters Most to Patients, Matters Most to Research™
A photo accompanying this announcement is available at https://www.globenewswire.com/NewsRoom/AttachmentNg/1fbc2378-3bbc-4300-92de-c6572653e292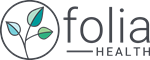 NOTE: This content is not written by or endorsed by "WQRF/WTVO", its advertisers, or Nexstar Media Inc.
For inquiries or corrections to Press Releases, please reach out to GlobeNewswire.