A 7.0 magnitude earthquake has rocked buildings in Anchorage, the U.S. Geological Survey says.
The quake hit at 9:29 a.m. and was centered seven miles north of Anchorage.
An aftershock with a magnitude of 5.8 struck about five minutes later.
Shortly after the quake, a tsunami warning was issued for the southern Alaska coastal areas of Cook's Inlet and part of the Kenai peninsula.
The warning means tsunami waves were expected.
Officials canceled the tsunami warning at around 11:15 a.m.
There is no tsunami threat to the California, Oregon and Washington coasts, according to National Weather Service officials.
It's unclear at this time whether there were injuries.
Social media posts show damage that included collapsed ceiling tiles at an Anchorage high school and buckled roadway pavement in places.
High school student Alyson Petrie caught this video in the midst of the 7.0 magnitude earthquake in Anchorage, Alaska. Petrie captured this footage in an art room at Colony High School.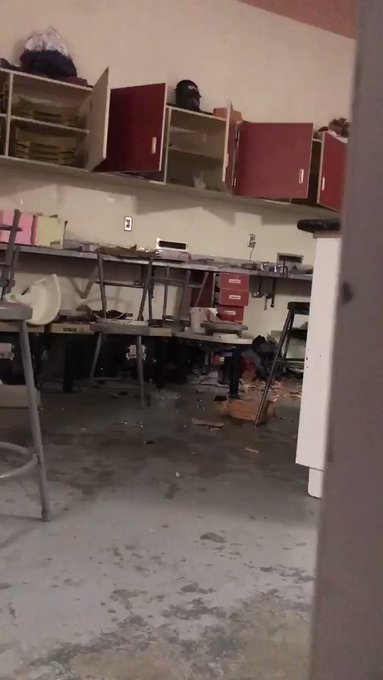 I'm shaking and out teachers are keeping us under our tables and telling us that there will be an after shocking maybe in 5 minutes or tomorrow we don't know I'm in the art classroom and everything is literally destroyed
95 people are talking about this
Other images on social media show children hiding under desks and items scattered off desks.
In a grocery store items can be seen that have fallen off shelves, and ceiling tiles can be seen scattered across a floor.
Elisha G. Brownson@eg_brownson

6.7 earthquake just shook us all up. My family all ok. Here's the grocery store my husband was at…
71 people are talking about this
Alaska averages 40,000 earthquakes per year, with more large quakes than the other 49 states combined.
Southern Alaska has a high risk of earthquakes due to tectonic plates sliding past each other under the region. According to the U.S. Geological Survey, the Pacific plate is sliding northwestward and plunges beneath the North American plate in southern Alaska, the Alaska Peninsula and the Aleutian Islands.
On March 27, 1964, Alaska was hit by a magnitude 9.2 earthquake, the strongest recorded in U.S. history, centered about 75 miles east of Anchorage. The quake, which lasted about 4½ minutes, and the tsunami it triggered claimed about 130 lives.