When should I deep clean my instant pot?
The Instant Pot is a versatile appliance that lets you bake, pressure cook, and even make yogurt. Instant Pots are built to last, but you'll have to take care of them if you want them to stand the test of time. Luckily, they're relatively easy to clean. By cleaning yours after every use, and deep cleaning it once a week or so, you'll ensure your favorite appliance is around for years to come.
Shop this article: Harris Cleaning Vinegar, Instant Pot Sealing Rings and Instant Pot Duo Crisp
What to consider before cleaning your Instant Pot
Instant Pot parts list
Before cleaning your Instant Pot, it can be helpful to understand its various pieces. Luckily, it only has a few parts you'll need to know.
Base unit: The Instant Pot's outer shell isn't dishwasher-safe, and you shouldn't submerge it in water. The base unit houses the cooking element and has numerous buttons to control the appliance.
Inner pot: The inner pot is usually the piece that gets the dirtiest — this is the piece that contains the food you're cooking. It's dishwasher-safe and generally easy to clean.
Lid: The lid is easy to remove and wipe down. It has a handle, two fins, a float valve, and a steam release valve.
Pressure valve: This is an important safety mechanism that helps the appliance release heat as needed. It has a cover that can be removed when it's time to clean it.
Sealing ring: This forms a tight seal between the base unit and lid. It can be easily removed and is dishwasher-safe.
Condensation collector: This piece catches excess moisture that would otherwise leak onto your countertop. It can be removed and is dishwasher-safe.
How often should you clean your Instant Pot?
The inner lid, inner pot, sealing ring, and the inside of the condensation collector should be cleaned after every use. As a general rule, you should clean any piece that comes into contact with food after it cools down to keep it from developing an odor.
Every one to two weeks, it's a good idea to deep clean your Instant Pot. Deep cleaning involves wiping down and deodorizing every piece of the Instant Pot.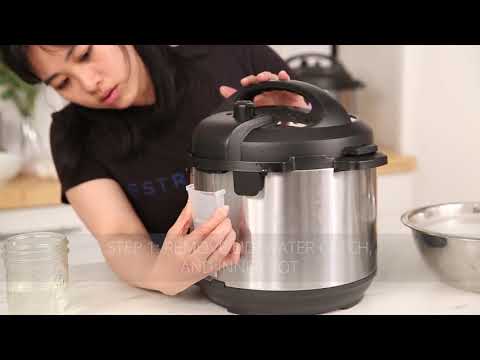 How to clean an Instant Pot
Disassemble your Instant Pot
Once your Instant Pot is cool enough to touch, you can remove the lid and inner pot. The sealing ring can usually be removed by hand, although you can use a butter knife if you're having trouble taking it out — be careful not to damage the ring as you remove it. It's a good idea to check the sealing ring for discoloration, cracks, or tears. If the ring appears damaged, you'll want to replace it as soon as possible.
The condensation collector should pop off easily. You may want to wait to remove the pressure valve lid until you are ready to wipe it down, as it is small and easy to misplace.
Clean the base unit
Wipe down the outside of the base unit with a damp rag. You can use the same damp rag to clean the inside of the base unit, but make sure it isn't too wet and dry it off immediately. Many people find cleaning the base unit's inside with a paintbrush is easier and safer. You can also use a paintbrush to clean food residue from the top of the base unit where the lid screws on.
Clean the lid, sealing ring, and pressure valve cover
You can easily remove the pressure valve by lifting it with the lid flipped upside down. Wipe the pressure valve with a damp cloth, and set it to the side. You can hand-wash the inside of the lid and the sealing ring with soap and water. Alternatively, you can place them on the top rack of your dishwasher. Once the lid is dry, re-attach the pressure valve cover.
Clean the inner pot and accessories
The inner pot can be hand-washed with soap and water or placed in your dishwasher. Don't use an abrasive material like steel wool, as it may scratch the stainless steel. The condensation collector can be wiped down by hand or placed in the dishwasher. If you have a steamer basket, springform pan, or other accessories, you may also need to clean them. Check the accessories' manuals to find out if they're dishwasher-safe.
How to deodorize and restore your Instant Pot
Over time, your inner pot may develop stains, discoloration, or an unusual smell. You can usually resolve these issues with vinegar and lemons.
Add vinegar and lemon slices to your Instant Pot
Mix one cup of vinegar, one cup of water, and sliced lemon in your Instant Pot. Some people prefer using vinegar and lemon slices with no water, and others add just the lemon peel to the mixture.
Steam the mixture
Set the Instant Pot to steam for two minutes. Once the mixture is done steaming, remove the sealing ring and let it air dry. Wipe the pot out with soap and water — you may want to wear cleaning gloves to keep the smell of vinegar off your hands.
What if the sealing ring still smells bad?
The sealing ring is the most stubborn piece when it comes to unusual odors. If the sealing ring still has an unusual smell after steaming it with lemon and vinegar, try soaking it overnight in vinegar. If a vinegar soak doesn't resolve the issue, it may be time to replace the ring.
FAQ
Why are Instant Pots so popular?
A. Instant Pots may not cook food instantly, as the name implies, but they make most meals quicker than an oven or stove. Instant Pots are versatile, letting you pressure cook, slow cook, steam, saute, and make yogurt.
How long does an Instant Pot last?
A. Assuming you take good care of your unit, it should last many years. Although Instant Pots only have a one-year warranty, most people found that theirs lasted several years before needing to be replaced.
Can you submerge an Instant Pot lid?
A. The traditional cover included with your Instant Pot can be submerged in water. If you've purchased a lid with electronic controls, you shouldn't submerge it or put it in the dishwasher. Covers with electronic controls can be wiped down with a damp cloth.
How do you clean your Instant Pot if food is burnt to the bottom?
A. Most burnt food can be cleaned by pressure cooking water, soap, and baking soda for three minutes. If some burnt food remains, try wiping it out with a damp rag. Sometimes, you may need to use a silicone spatula to remove the residue.
Best products for cleaning your Instant Pot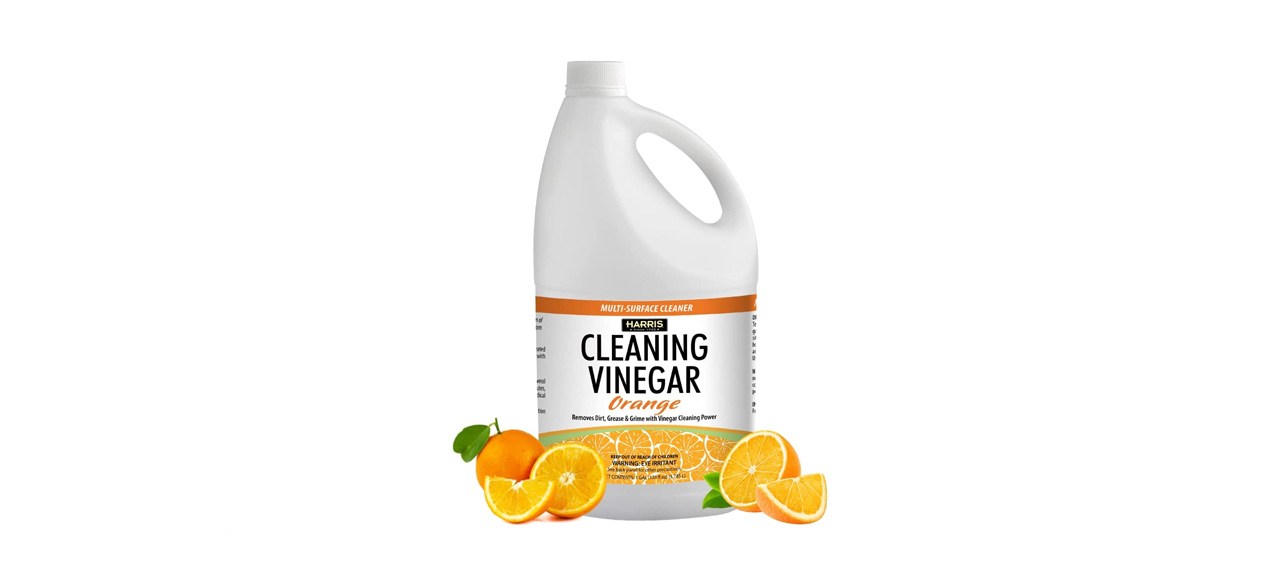 This concentrated vinegar is ideal for cleaning your home and appliances. Many felt the orange scent was pleasant compared to traditional vinegar.
Sold by Amazon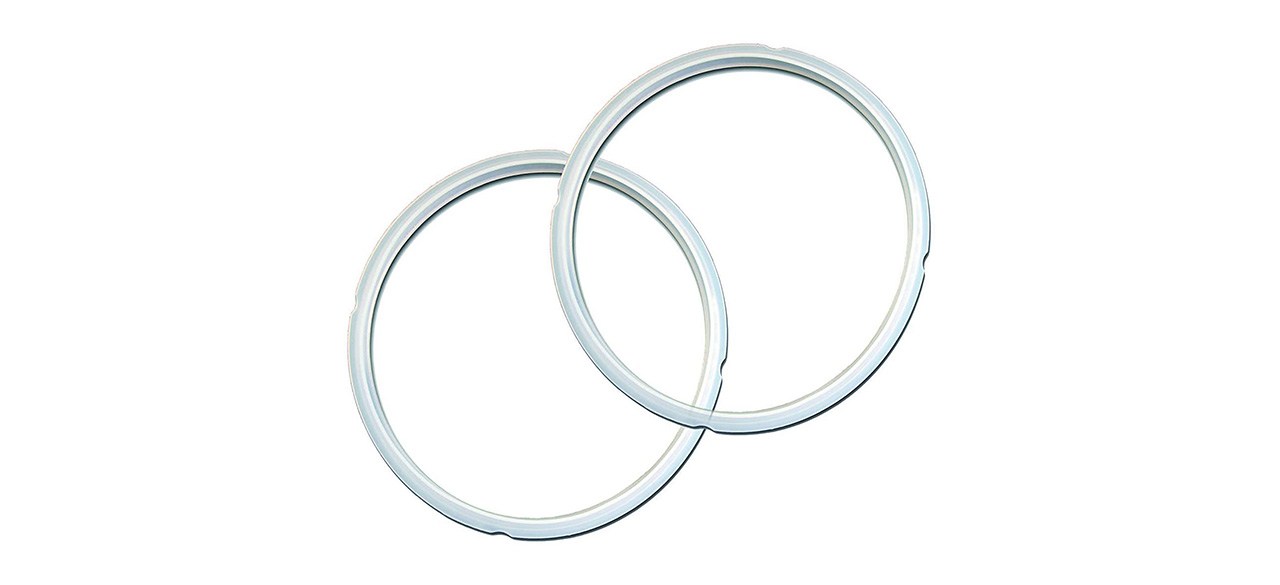 These come in several sizes meant to fit three-quart, five-quart, six-quart, and eight-quart Instant Pots. They're an ideal solution for those with a damaged sealing ring. Many were impressed with how easy they were to install.
Sold by Amazon
Sign up here to receive the BestReviews weekly newsletter for useful advice on new products and noteworthy deals.
Cody Stewart writes for BestReviews. BestReviews has helped millions of consumers simplify their purchasing decisions, saving them time and money.
BestReviews spends thousands of hours researching, analyzing, and testing products to recommend the best picks for most consumers.
Copyright 2023 BestReviews, a Nexstar company. All rights reserved.