This is an archived article and the information in the article may be outdated. Please look at the time stamp on the story to see when it was last updated.
Which inflatable hot tubs are best?
Relaxing in a hot tub with friends and family members is an enjoyable way to socialize. Whether you're hoping to fit your whole household or want to have room for friends, a six-person hot tub is a great size, as it's spacious without being enormous.
It isn't always clear what to look for in a hot tub, especially if you're a first-time buyer. You want enough jets to make it worth your while, plus it's nice to have simple, easy-to-reach controls. Once you know what you're looking for, you'll soon be chilling in your tub.
Why choose an inflatable hot tub?
If you're wondering if you should choose an inflatable hot tub over a standard tub, these are just some of their advantages:
Affordability: Inflatable versions are significantly cheaper than standard hot tubs, both to buy and install. So, if you don't have a huge budget, it makes sense to go inflatable.
Easy storage: If you want to pack away your hot tub during the colder months, you can just empty it, deflate it and pack it away. It takes up little space, so it's easy to store in a shed, garage or even a closet.
Gentler jets: Inflatable tubs use air jets or bubble jets, rather than the more powerful ones found in hot tubs. While this is a disadvantage for some, others prefer the feeling of these gentler jets.
Simple installation: Unlike hard-sided tubs, inflatable models don't need to be hardwired in by an electrician, nor do they need a poured concrete surface to sit on. This makes installation much simpler and cheaper.
Movable: If you don't like the position in which you've put your tub, it's extremely easy to move it next time you empty it, which isn't possible with standard versions.
What to look for in an inflatable hot tub
Jets
Before you buy, it's important to know that the jets on inflatable hot tubs are different from those on hard-sided tubs. They only have air jets, not water jets. This means you get the bubbling feeling you'd expect from a hot tub, but not the feeling of pressurized water.
You should consider the number of jets your chosen tub features. Expect anywhere from 100-200 in a six-person tub. The more jets, the more bubbles it's capable of producing.
Pump
All inflatable tubs should come with built-in pumps. These pumps have multiple purposes: inflating the tub, circulating water through the filter and powering the air jets. The pump must be up to the task at hand. Cheap tubs can feature subpar pumps, which give you disappointing bubbles.
Controls
The control panel is what lets you change the temperature and the flow of the jets. The last thing you want when you're trying to have a relaxing time in your tub is something that's a pain to control, so it should be easy to operate. Ideally, you should be able to reach it from the tub so you don't have to get out to change the settings.
Ground sheet
Some come with a ground sheet that acts as a layer of protection between the tub and the ground. While you should carefully pick over the area to remove any sticks, stones or other sharp objects, it's still good to have this extra protection.
Cover
Ideally, your tub should come with a cover. Not only does this keep heat locked in to save energy when bringing the tub up to temperature, but it also keeps dirt and debris out. This means you shouldn't need to change the water so regularly.
Best 6-person inflatable hot tubs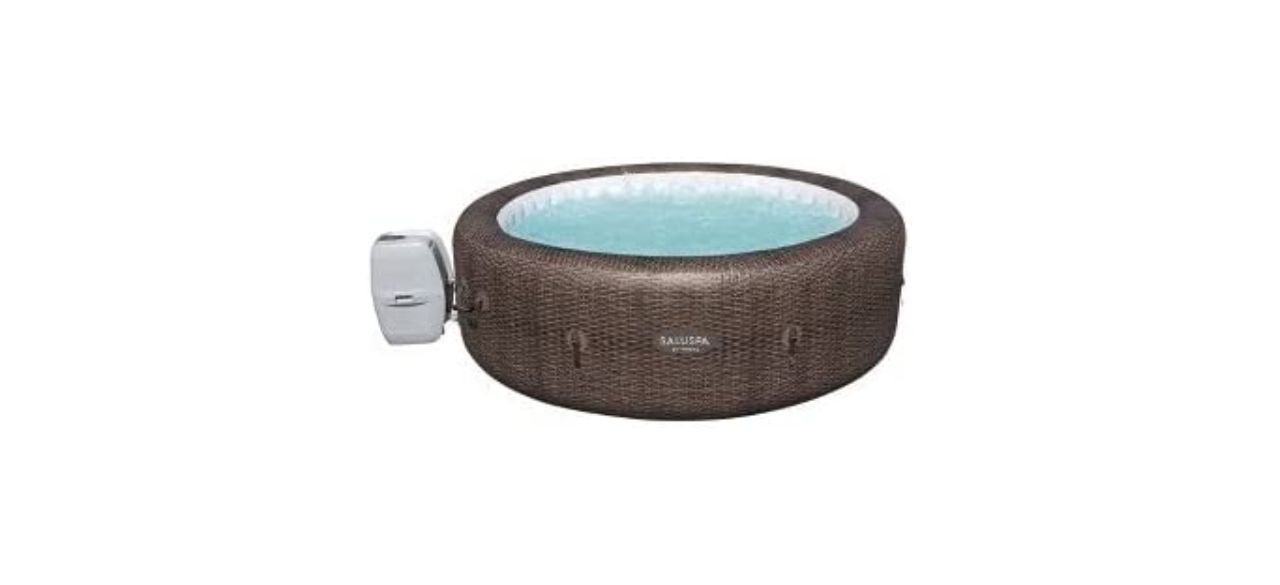 The five- to seven-person capacity makes this hot tub a perfect choice to seat six comfortably. Made from a puncture-resistant DuraPlus material, this is a durable tub. It also comes with a reinforced cover to keep out debris.
Sold by Amazon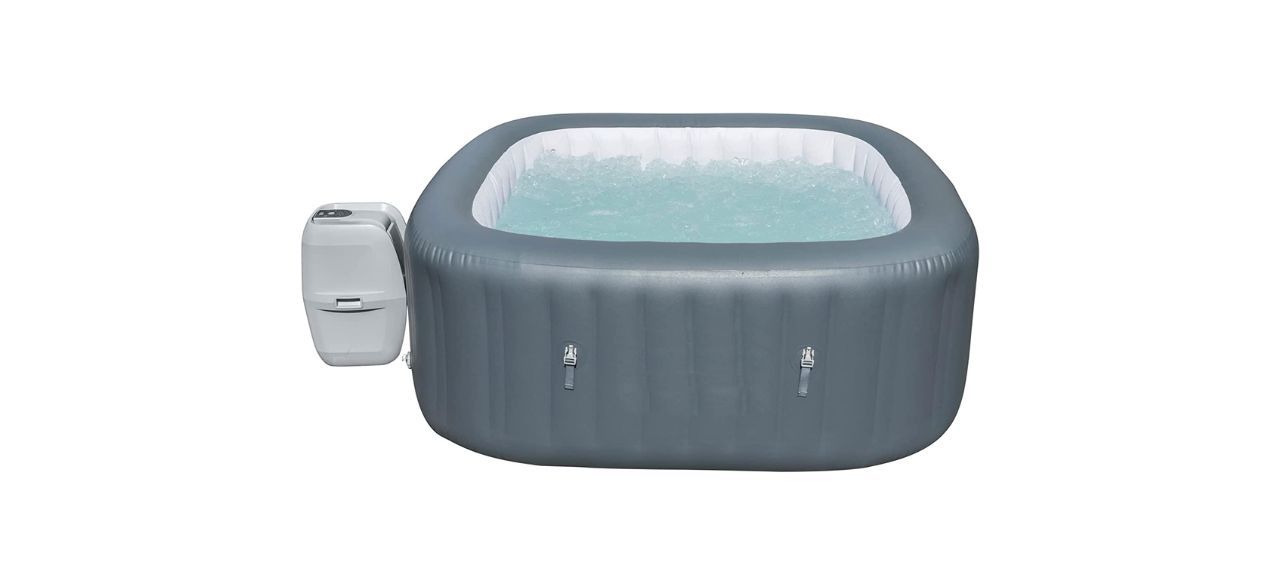 Coleman SaluSpa 140 AirJet Square Inflatable Hot Tub
With a capacity of four to six people, this hot tub fits six at a push, but it isn't the roomiest six-person option. It has 114 air jets to create soothing bubbles and comes with a wide range of accessories, including a cover, filter cartridges and cup holder attachment.
Sold by Amazon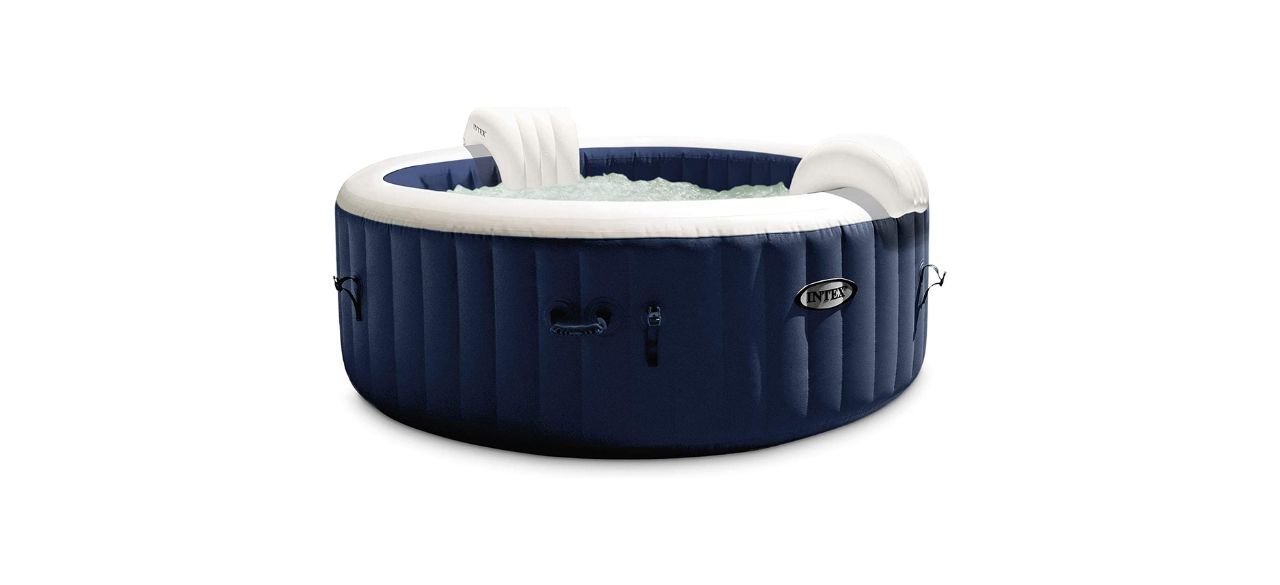 Intex 28431E PureSpa Plus Six-Person Inflatable Hot Tub
Thanks to its filter and built-in water treatment system, this tub keeps water hygienic and gentle on your skin. It has 170 air jets to gently bubble away, a multicolored LED light to set the mood and a couple of headrests for your comfort.
Sold by Amazon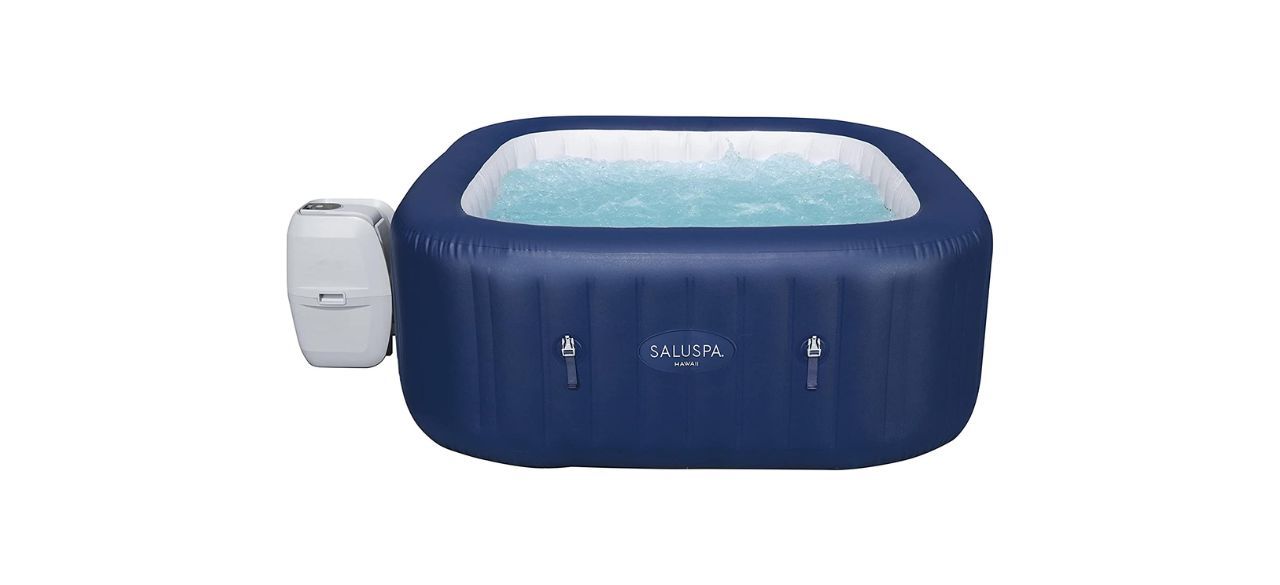 Bestway SaluSpa Hawaii AirJet Inflatable Hot Tub
The four- to six-person capacity makes this a great option if you occasionally need to fit six people, but usually fewer. It has an automatic heating function to protect from frost, so you can use it year-round.
Sold by Amazon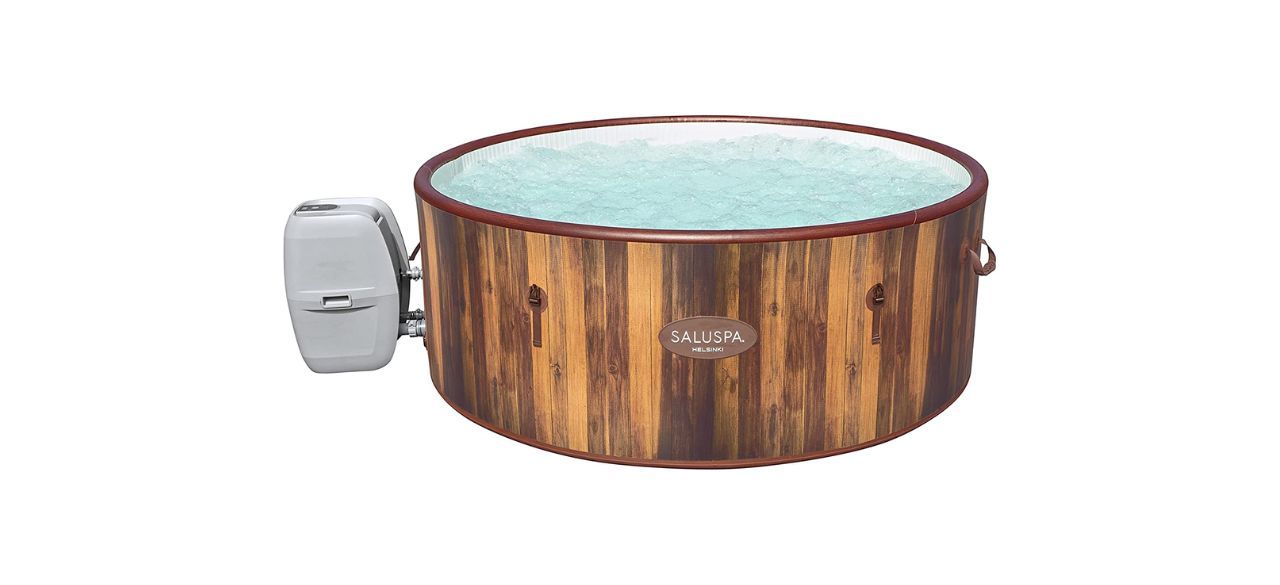 Bestway SaluSpa Helsinki AirJet Inflatable Hot Tub
This hot tub is available in a faux wood-paneled design that looks great. It's ideal if you're not keen on the appearance of standard inflatable hot tubs. You can change the temperature and the flow of the jets from the digital control panel without getting out of the tub.
Sold by Amazon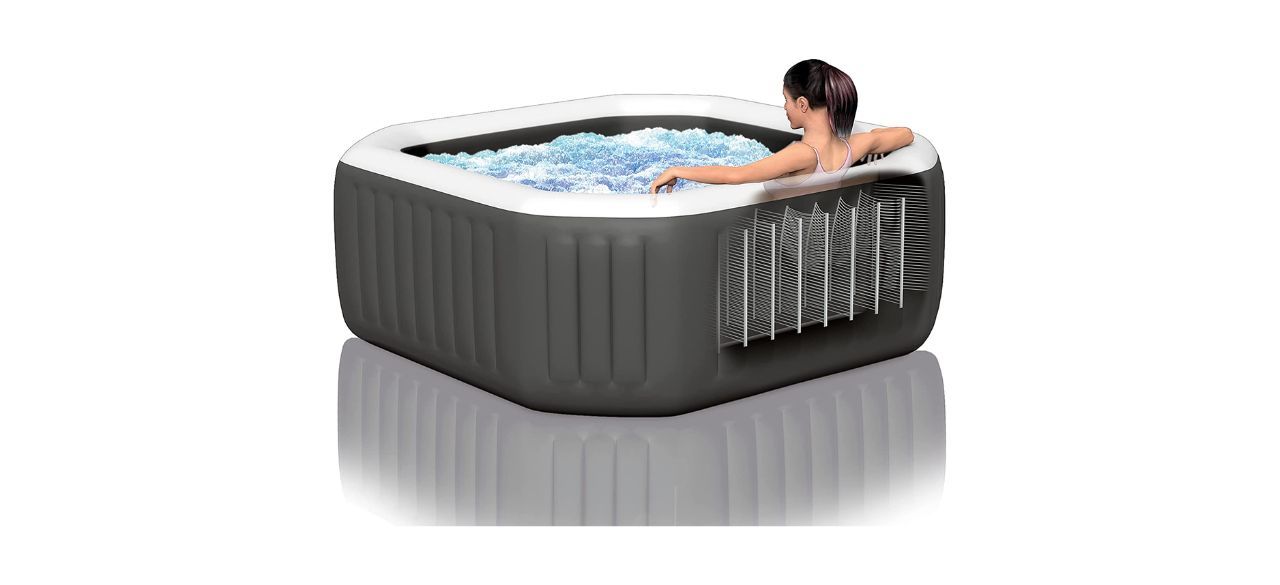 Intex 28437EP PureSpa Bubble Massage Deluxe Hot Tub
A roomy choice for six people, this tub is made from a highly durable three-ply PVC that resists punctures. It has a built-in hard water treatment system and 140 bubble jets for a soothing experience.
Sold by Amazon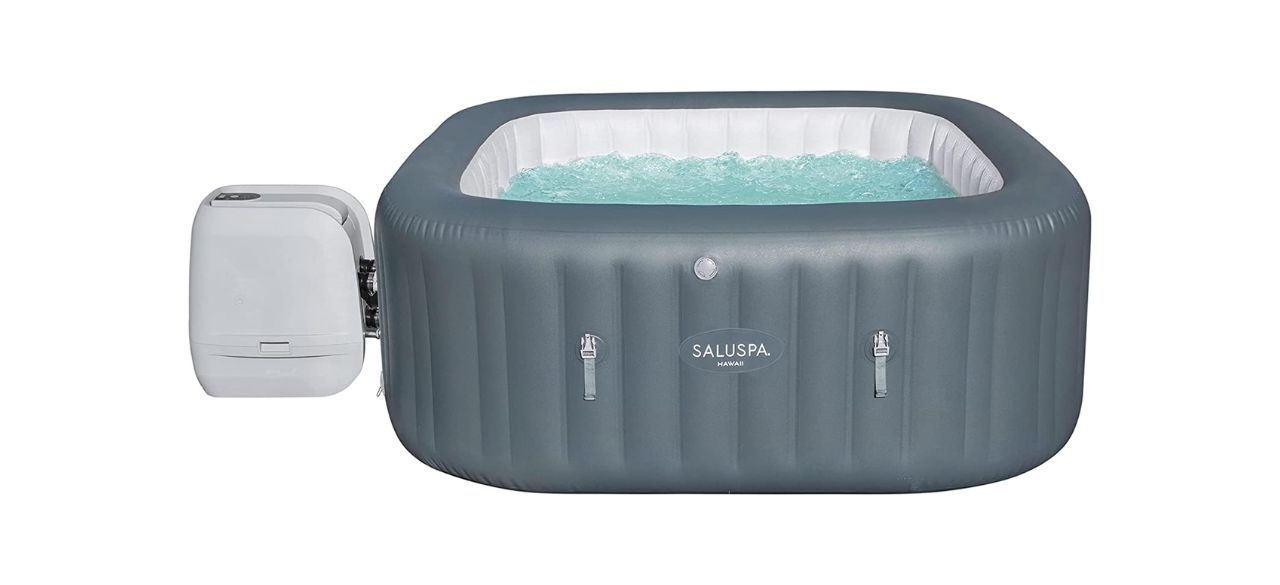 Bestway SaluSpa Hawaii HydroJet Pro Inflatable Hot Tub
Made from a durable puncture-resistant Tri-tech material and with I-beam wall construction, this tub is sturdy and holds its shape well. It inflates and deflates via the pump, which also circulates water and powers the jets.
Sold by Amazon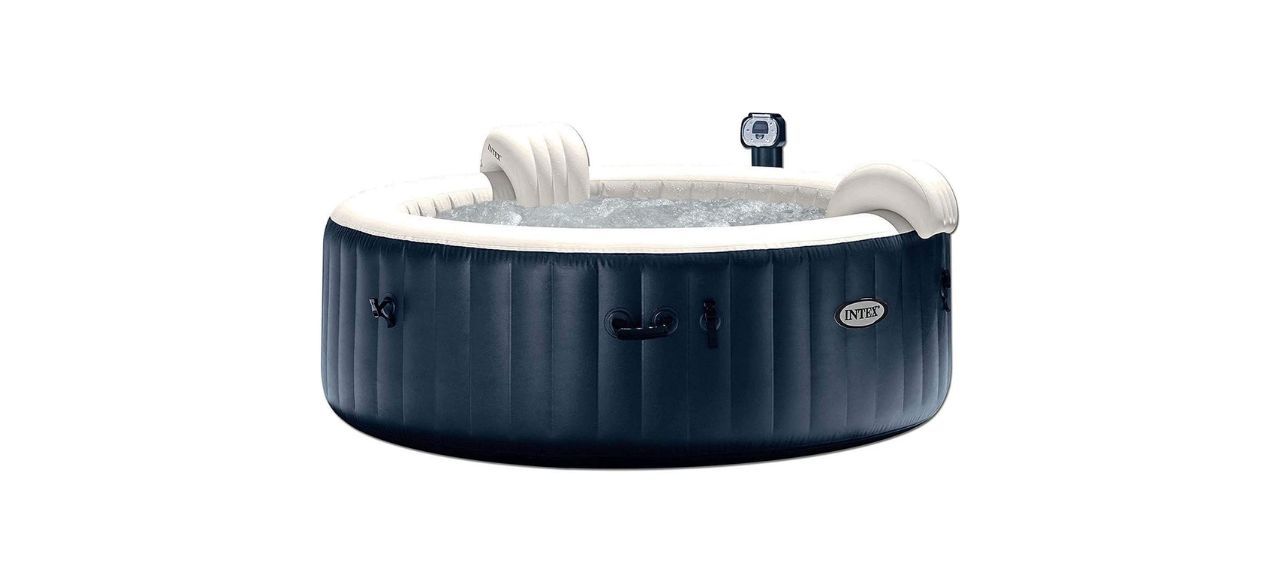 Intex 28409E PureSpa Six-Person Inflatable Hot Tub
With 170 high-powered air jets, this hot tub creates more bubbles than most of its size. The control panel is easy to use and reachable from inside the tub, while the headrests help you get comfy.
Sold by Amazon
Want to shop the best products at the best prices? Check out Daily Deals from BestReviews.
Sign up here to receive the BestReviews weekly newsletter for useful advice on new products and noteworthy deals.
Lauren Corona writes for BestReviews. BestReviews has helped millions of consumers simplify their purchasing decisions, saving them time and money.
Copyright 2023 BestReviews, a Nexstar company. All rights reserved.